---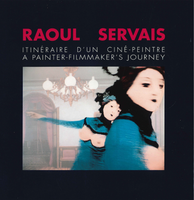 Sale
Biografie van de Oostendse filmmaker Raoul Servais (1/5/1928) die wordt beschouwd als de vader en de pionier van de animatiefilm in België en is tot op heden een inspiratiebron voor talrijke animatiefilmmakers wereldwijd. Hij sleepte talrijke prijzen in de wacht, waaronder een Gouden Palm op het Internationaal Festival van Cannes, en richtte de eerste animatiefilmschool op in Gent (KASK), de allereerste op het Europese vasteland.
-
Biographie du cinéaste ostendais Raoul Servais (1/5/1928), considéré comme le père et le pionnier du cinéma d'animation en Belgique et qui, à ce jour, est une source d'inspiration pour de nombreux cinéastes d'animation dans le monde entier. Il a remporté de nombreux prix, dont une Palme d'or au Festival international de Cannes, et a fondé la première école de cinéma d'animation à Gand (KASK), la toute première en Europe continentale.
- 
Biography of the Ostend filmmaker Raoul Servais (1/5/1928), who is considered the father and pioneer of animated film in Belgium and to this day is an inspiration to numerous animation filmmakers worldwide. He won numerous awards, including a Golden Palm at the Cannes International Festival, and founded the first animation film school in Ghent (KASK), the very first in continental Europe.
Author(s): Philippe Moins & Jan Temmerman
Publisher: Stichting Raoul Servais, 1999
Nederlands/français/English | Soft cover | First edition | 119 p.